RiverSea Plantation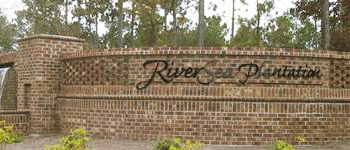 When those who love the outdoors come to RiverSea Plantation it is easy to see why they fall in love with this plantation and want to call it home. Situated along the Lockwood Folly River, boaters, fisherman, and those who love water views will know right away that RiverSea Plantation offers residents everything they are looking for. With easy river access for kayaking, boating and a network of walking trails through beautiful low country woodland areas, it is a place you may never want to leave.
With area hospitals and medical centers, community college, performing arts center, state-of- the-art aquatic and fitness center all just a few minutes away, RiverSea Plantation is ideally located for those who are looking for privacy but need accessibility to the areas resources. Also being only 10 minutes to the beaches of Oak Island, RiverSea Plantation provides an excellent balance of serenity and access to everyday needs.
Additionally, RiverSea Plantation residents can enjoy a state-of-the-art clubhouse, boat ramp with direct access to deep water access on the Lockwood Folly River, tennis, walking trails, beautiful scenic nature trails and much more.
With home sites beginning as low as $20K, now is a great time to get build a custom home in this exceptional community that is sure to see rising land values in the near future.
View all RiverSea Plantation Single Family Homes
View all RiverSea Plantation Condos / Townhouses (N/A in RiverSea Plantation)